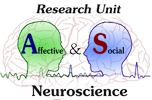 The Research Unit in Affective and Social Neuroscience is a university and an inter-university team including professors, researchers and practitioners from many research areas - such as cognitive-affective neuroscience, clinical neuroscience, neuropsychology, psychophysiology, cognitive psychology, and communication psychology.
Thanks to many national and international collaborations, the Research Unit carries out basic and applied research as well as training activities (such as workshops, conferences, summer schools, advanced specialization courses, and a post-graduate second-level master degree in clinical neurosciences) in the field of experimental and applied neuropsychology and of affective, cognitive and social neuroscience.
The Research Unit is directed by Prof. Michela Balconi and its young and active team is systematically constituted by post-doc collaborators, PhD students, research fellows, trainees, and near-graduate thesis students.

Research activities primarily focus on affective and social processes, communication skills, and cognitive abilities and their neural and bodily correlates, as well as on the application of neuroscience methods and notions for affective-cognitive empowerment and rehabilitation in pathological pictures. The Research Unit, under the lead of Prof. Balconi, has successfully worked at many joint research projects in collaboration with other Universities, research centers, and clinical and health care institution, as well as with commercial and industry partners.
Research and training activities actually benefit from the access to an ample set of investigation and intervention tools and grounds on the integrated used of various methodologies, including electroencephalography (EEG, ERPs, source localization), functional near-infrared spectroscopy (fNIRS), recording of autonomic indices (EDA, ECG, EMG, skin temperature, breathing metrics), eye-tracking, non-invasive brain stimulation (TMS, tES), and biofeedback-neurofeedback.